Are you a leader of a growing mid-market firm?
Join Verne Harnish and his team virtually, for world-class executive education.
Are you a company looking to scale? The Scaling Up Performance Platform has helped the leadership teams of over 70,000 scaleups with a set of tools/techniques that address the 4 decisions in scaling a business: People, Strategy, Execution, and Cash – based on the book Scaling Up: How a Few Companies Make It…and Why the Rest Don't with almost a half-million copies in print across 17 languages. 
Given the times, we've built a condensed virtual version of the multi-award-winning Master Class Workshop offered exclusively to YPO in the past. If you're a scaleup looking for a solution, this workshop is a combination of assessments, learning and coaching to help you manage the chaos that comes with scale.
After 3 years of trying, John Ratliff was finally able to get his leadership team to implement the Scaling Up methods after only 2 hours of them attending Verne's 2-day intensive workshop. They turned to him and said, "this stuff is awesome – we need to go home and implement this right away!" Hear his story in the video!
Voted the "Best Business Educational Event" in YPO

… and hosted in over 40 other cities worldwide.
MORE MONEY
2x Cash Flow
3x Industry Average Profitability
10x Valuation
MORE TIME
Reduce by 80% the time it takes to manage the business.
MORE FUN
Support to speed the process and take the load off the leadership team.
Testimonials
"The most intense and highest value for time and money training event from YPO so far. I wish we could have some of this at HBS."
YPO Past Attendee
 Izi Kohen (Istanbul Chapter)
"Rockefeller system delivers more value for the $ than anyone else in the business!"
YPO Past Attendee
Henry McGovern, Chairman and CEO AmRest
"Extraordinarily implementation oriented; great since we could bring our teams with us; so far the best YPO seminar I have ever attended."
YPO Past Attendee
Jochen Werz (Greater Europe Chapter)
Workshop Overview
The Master Class is for...
Speakers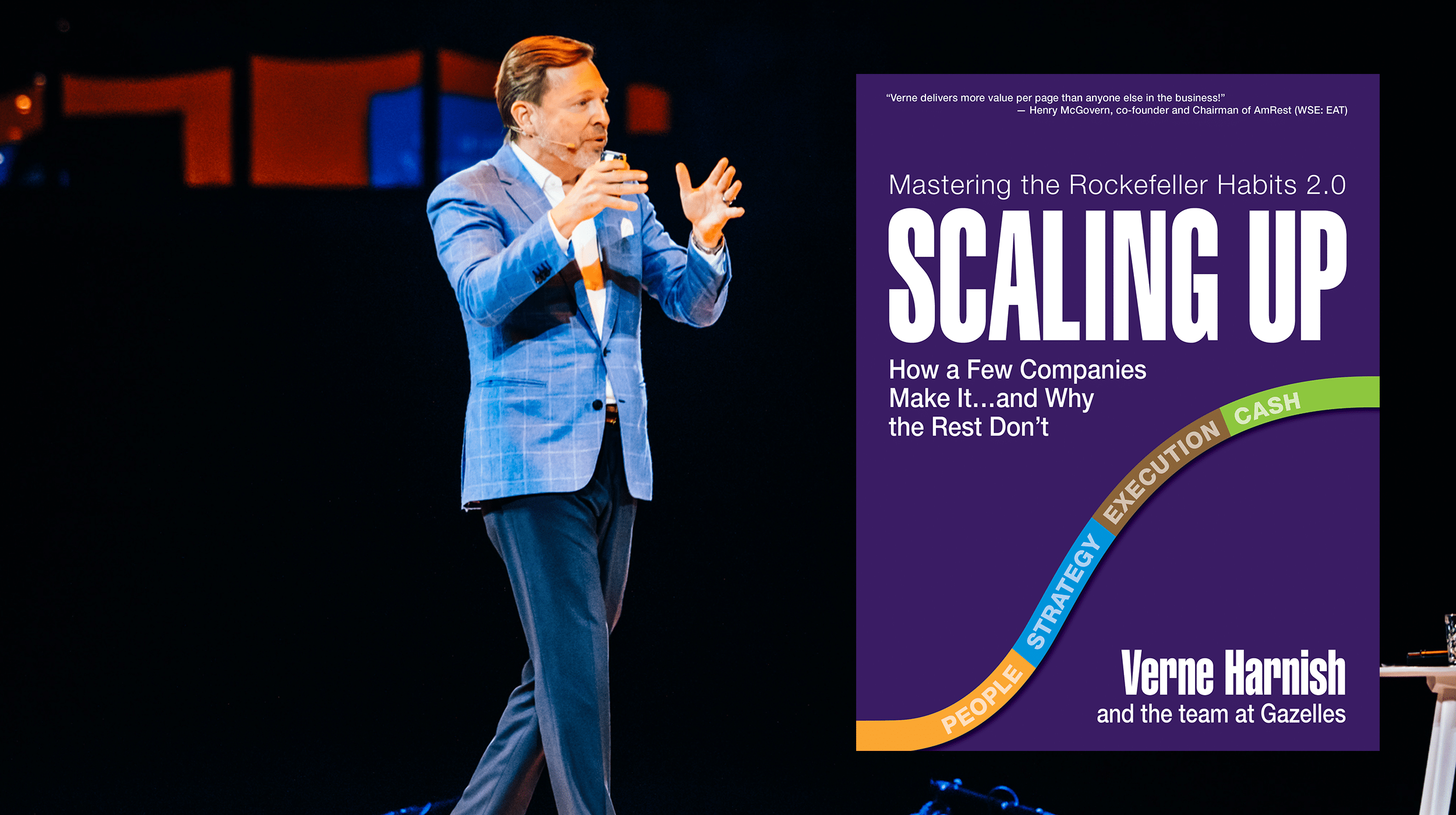 Verne Harnish
CEO & Author of Scaling Up: How a few Companies Make it…and Why the Rest Don't
Read Bio…
Additional Facilitators
Virtual Master Class Agenda
April 6-8, 2021
All times are in Singapore Time (SGT).
Registration
The Master Class will take place virtually from April 6-8, 2021.
For Coach Clients, EO, and YPO members, please reach out to Mike Davies at mike@scalingup.com to receive a discount.
Frequently Asked Questions
I am in a different timezone and can't watch it live. Will a replay be available?
Yes! Anyone who registers will have access to the replays of each session. We will do our best to upload them in a timely fashion to the portal. We expect to have them up within 12 hours of the session ending.
What does the ticket price include?
The ticket price includes your admission to the 3-day virtual workshop and the accompanying worksheets.
Will the workshop be interactive?
Yes - you will have a chance to interact with Verne and his team via Zoom.
Is there a group discount?
There is! For teams for 3+, you receive a discounted rate. If you're a member of a YPO or EO chapter, email mike@scalingup.com to receive a 20% discount code for discounts.
What's the cancellation policy?
We will give you a full refund up to 4 hours prior to the start of the workshop.
Will there be future dates for the Scaling Up Master Class workshop?
Yes! We currently have an in-person Master Class workshop scheduled for May 4-6. This will be a more in-depth version of the virtual workshop. The final agenda and pricing are still being finalized though, so please check back to the "events" tab in a few weeks for more info.
Where can I find my login to view the virtual master class replays?
We will be sending out Zoom links 1 week before the workshop. If you have not received a link from us by April 1 (or within 24 hours if you register after this date), please email abby@scalingup.com. If you're interested in accessing the replay, we will be sharing those instructions, in detail, once the replay of the first session is ready to be viewed. If you're having issues finding or watching the replay, email support@growthinstitute.com.